Help protect and preserve the beauty of Sugar Lake
Minnesota Waters' 2010
Lake Association of the Year
2009 Star Lake Recipient


SLA Mission Statement
To provide for the betterment and well being of property abutting and
adjoining the shores of Sugar Lake in Wright County MN and to protect and
preserve the resources contributing to the natural beauty of Sugar Lake.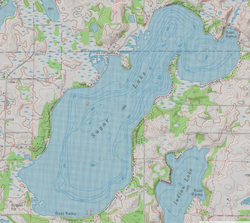 Updates to Membership Directory
Every two years a directory containing member contact information, area information and ads from local businesses are published and distributed to all SLA members.
A new 2017-2018 SLA Directory will be available at the 2017 picnic.
Please return your membership renewal form by June 1 to ensure the information in the directory is accurate. Thank You!
Download a
Membership Form.


UPCOMING
2017 Summer Events at Sugar Lake
June 24th Fishing Contest
July 29 Golf Benefit
August 5 Sugar Lake Picnic
August 19 Annual Meeting/Board Election
​September 2nd Diane's Lights Night
September 2nd 8th Annual 5K Walk/Run Register Here


---
---